Find An Obituary
Help remember your loved one with a thoughtful memorial, honoring the story of their life and family, as well as obtain details on their funeral arrangements. Click below to view our obituary listing.

Join Our Mailing List
When an obituary is published to our site, we will notify you by email. This service is free, and you may unsubscribe at any time.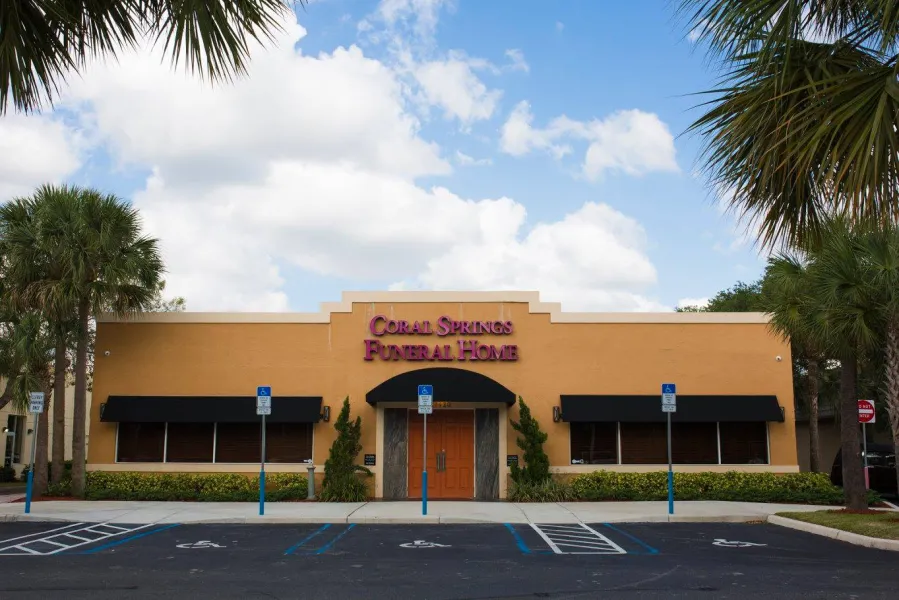 Serving Families, Friends And Our Coral Springs Community!

Click here to read about special guidelines in place due to the COVID-19 pandemic.
"Coral Springs Funeral Home provides a comfortable and soothing surrounding for you to make decisions on how best to honor the spirit and life of your loved one. We embrace traditional values, diversity and innovation." — Gregory P. Tammaro, Funeral Director In Charge
Of the many arrangements made after losing a loved one, the first is the selection of a funeral home. Our staff can help create a beautiful tribute and provide guidance and suggestions on the many decisions made when planning a funeral, cremation, memorial, celebration of life, and/or burial service. We take pride in meeting the specific, and sometimes unique, needs of each and every family. Please use our website to learn about the funeral, cremation and permanent memorialization services we offer, as well as our pre-planning and grief support resources.
If you have any questions or concerns, please contact us anytime. We are here to help you!
Plan Ahead
Advanced planning is a thoughtful and considerate act that your loved ones will truly appreciate when the time comes.
Customized Tributes
Customizing the service for your loved one allows you to truly honor their memory with unique and personalized details.
I am very grateful to the director and to all the staff since they gave me a kind and cordial treatment during that painful time we go through when our loved ones leave. I hope not to use them in a long time, but if I have to, I would turn to Coral Spring Funeral Home.

Gilma F
June '21
On behalf of the Coral Springs Police Department, I would like to pass on my most sincere gratitude to you for your assistance with the funeral services of Retired Sergeant and Range Master Robert "Bob" Behan. Throughout the time that Bob was under your care, you were professional, courteous, and compassionate to my staff, as well as to Bob's family and friends. The generosity you displayed allowed my members to properly mourn and reflect on memories of Bob. While it was an unfortunate circumstance, we are grateful for the level of service we received. Please accept our endless thanks...
Chief of Police Clyde H. Parry
November 2019
The passing away of a love one is never easy, and when making the arrangements you want everything to be perfect! Coral Springs Funeral Home provided this and everything was to "perfection". Thank you Gregory, Jami, Cheryl, Michael and the rest of the staff so very much for all the support you provided. Gregory you went above and beyond and we could not have been more touched by your kindness because from the moment we arrived you treated us and "our dear Mother" as if we were family and for that we are very grateful. Thank you for your comforting words, dedication to details, for following through to make sure everything was perfect but most of all for listening/comforting us when it was needed the most!
The Family of Rosa Julia Villanueva
November 2019
Thank you so much. As you know I had everything prearranged, nothing unexpected. I followed Nana's wishes to the best of my ability. She was always proud of her service and proud to wear her pristinely kept uniform. She was also very proud of her appearance. In her final years, as her face revealed her age, I was set on a closed casket. When we opened the casket, I was so surprised to see how beautiful she looked. It was completely unexpected and truly a gift to me and my family. She would have been pleased as well.
Jennifer Chiarello
October 2019
The most horrible day for myself and my family was the passing of my 20 year old daughter! Thank you so much for making this day go as smooth as possible and not making us have to worry about a thing except for spending as much time as we could with our daughter for one last time! Thanks again
Don & Brenda Cullen
July 2019
Very understanding, attentive. They listened to our wishes.
The Family of Maria Del Carmen Stride
May 2019
Outstanding Job. I will use your services in the future should the need arise.
The Family of Melodye King
March 2019
Very helpful & accommodating...
The Family of Mildred Johnston
December 2018
Everything including services was excellent. Everything was done just right.
The Family of John Vassilopoulos
November 2018
Outstanding service - Level of care unsurpassed.
The Family of Caridad Ruiz
October 2018
The staff was so comforting, caring, and compassionate. A++
The Family of Teresita Ivette Glazer
August 2018
My entire experience working with Coral Springs Funeral Home was outstanding and very easy.
The Family of Irma Abrams
July 2018
They listen with compassion and explain everything with great care. Effortless! Great job!
The Family of Clotilde Ramos
July 2018
I did not realize my mom had everything pre-arranged. It worked out very well. ...they went over and above in making mom look great.
The Family of Kathleen Marie Weise
July 2018
The entire process was handled with courtesy and professionalism. The service was just what the family wanted. Small and dignified.
The Family of Joyce Holmes Seitz
June 2018
All arrangements were taken care of with ease.
The Family of Louis Walter Zabelny
April 2018
Everything was smooth and easy.
The Family of Mary Catherine Oster
March 2018
You made an incredibly hard time easier.
The Family of Angela McCormack
January 2018